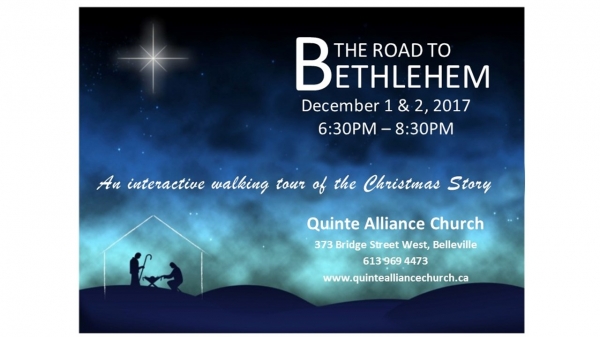 Please consider this your invitation to join us for an outdoor, interactive reenactment of the events surrounding the birth of Jesus Christ.
Let our guides lead you along the Road to Bethlehem and you will encounter Roman soldiers, shepherds, angels, an ancient market place, tax collectors, innkeepers, Mary and Joseph and a number of other characters and places as we remember again why that first Christmas was, and still is important to our lives today.
FAQ:
When is it? This year's Road to Bethlehem takes place on Friday, December 1 and Saturday, December 2 from 6:30 – 8:30pm.
Where is it? Quinte Alliance Church is located at 373 Bridge St. W in Belleville.
How much does it cost? Admission is completely free and refreshments will be served in the gym at the end of the road.
What should I wear? Dress for the weather. Much of the time will be spent outdoors, waiting in queue, or on the journey walking a trail on our church property. The "show will go on" in all types of weather so please dress accordingly.
Are there any restrictions I should know about?
No smoking is allowed because the Road to Bethlehem reenactment is a family-friendly event.

No pets (except trained guide dogs) will be allowed because we will have live animals along the 'road'.
Is this a handicapped accessible event? Unfortunately, as this is an outdoor event over rough terrain, wheelchairs will not be able to access this event.
What if I have other questions? For more information or if you have any questions please contact us at 613-969-4473.